Why Run a Fire Sale?
Susanne and I have been creating and participating in "fire" sales for the past several years with each other and our friends with profitable results. However, this time we started to think a little differently about things as we started putting our latest sale together.
Of course, we invited our friends, as well as people we have an established relationship with that, because we know they have products that fit with our market…
BUT, as we continued putting the sale together one thing stood out to us.
We had the means to help new and/or struggling marketers
Increase their reach
Grow their list
Make some money – in some cases their very first sale.
One of the things we want to accomplish with PiggyMakesBank.com is to tell you about cool things that work to make money AND show you how to do it.
In fact, we even included people in our latest sale that only had an opt-in freebie as a product to donate.  Then we offered to help them set up their download pages so they could take full advantage of participating.
You know why?
Because they had quality items to share (even if some of them were free)
We always want to share new and interesting bloggers with our readers
We want to give back to our community – YOU!
We want them (you)to succeed
So, not only did we decide to hold a really cool sale with ALL our friends no matter how big (or not) they were, we also decided to write a "Tell All" book on how to create a successful fire sale.
A quick note: For the purposes of this ebook, anytime we talk about a Fire Sale we also mean Collaborative Sale where several product owners come together to create an attractive ebook bundle and promote together.
So, Why Run A Fire Sale?
This whole book is dedicated to one of our favorite marketing strategies – the Fire Sale.
One of the reasons we love it is because it works to everyone's advantage so we came up with the name "Win-Win-Win-Win" project.
We'll go into more detail on that in the next chapter but first let's talk about what exactly and fire sale is and why you may one to run one of your own.
A Definition from Wikipedia:
A fire sale is the sale of goods at extremely discounted prices, typically when the seller faces bankruptcy or other impending distress. The term originated in reference to the sale of goods at a heavy discount due to fire damage.
In the online world, a fire sale is often a bundle of related e-Products sold for a short period of time for one low price.
For example:  Susanne recently ran an "Everything But the Kitchen Sink – Never Gonna Happen Again!" sale on her site (www.HillbillyHousewife.com). It included all her regular eBooks along with contributions from Tracy (www.MomsInABlog.com) and some other blogging friends. All products were home making, cooking, mom related.
The reason Susanne decided to run this particular sale was to help pay for plane tickets (which have gotten outrageously expensive – just saying) to fly to Germany this past summer to see her family which brings up a good point.
When Should I Hold a Fire Sale?
There are typically two good reasons to run a fire sale but remember that it's not something you want to do every couple of weeks. Instead think of it as something you do every once in a while to create some buzz and cash.
Reason #1 You Need Cash Now
Unexpected expenses happen.  Bank accounts run low. It's a fact of life and as an entrepreneur we aren't always able to run to the bank to get a loan (nor do we really want to) so an option is to run a sale to raise a large chunk of cash quickly.
 Reason #2 You Want to Build Your Business
The second reason to run a fire sale is to create some buzz for your business.
As you'll see a little further on in this book, done properly, your fire sale can reach quite a few new people.
If you've been in a bit of a business slump or you're ready to take it to a new level, a sale can help you reach new audiences and get your current readers and customers talking about you.
Ready to Give It A Try?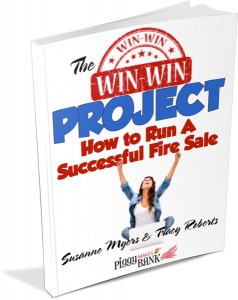 We've put together a guide that shows you exactly how to run a fire sale.
We've tested and tweaked a system we've been using for the past 2 years and are sharing what we've learned with you.
You'll get a step-by-step guide (complete with examples from our own fire sales), a checklist to help you stay on track and access to Tracy and I via a private Facebook group.
We're here to answer questions and help you get in touch with potential bundle sale participants.