Let's talk using PLR for Inspiration!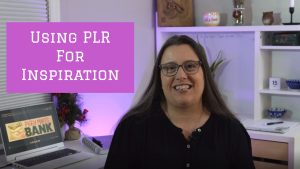 Today's video and this blog post are about using PLR are as inspiration for content you create from scratch. There's nothing worse than staring at a blank screen. Starting with PLR helps you get over that.
But there's another powerful reason why you should start with PLR, even if you just browse your favorite PLR seller's site for the spark of an idea.
Watch this short video tip on how to use PLR for inspiration to create content from scratch.
Do you ever sit there, staring at a blank page or a blank screen with no idea what you want to share with your audience next? PLR can help you in those situations if you use it as inspiration for content you create from scratch.
I mentioned in previous videos that as PLR providers we do a lot of research into what topics we create content around. We look for trends, hot topics, requests for content that keep coming up again and again … you get the idea. And you get to tap into that research yourself.
Option One: Browse your favorite PLR provider's website and look at the topics they release content packs around. Jot down the ones that work for you and your audience, then create your own content around the topic.
I'll give you an example. When it comes to self-help and self-improvement content, happiness is always a popular topic around here. Think about your ideal target audience or customer. What are they looking for when it comes to finding more happiness? What would make a difference for them? How could they improve their lives to find more joy in all the little things? Craft content for them and share away.
Option Two: Buy the PLR and use it as research. Think of it as a shortcut. You don't have to google for hours, skimming article after article to find out what you should cover and how you may want to cover it. Instead, buy the article pack or ebook. Read it. Then sit down and create your own version that's a perfect fit for your people. Of course, since it's PLR you can also copy and paste entire sections that make sense to use.
Either way, PLR will help you save time and get those creative juices of yours flowing at the same time. Give it a try.
Need some PLR to play with? Grab a free sample of our pre-written content.