Tiffany Lambert's $1 PLR Sale – What You Need To Know
This is something that only happens once a year.
If you've been to her PLRMiniMart site, you already known she has a ton of stuff in all sorts of different niches. And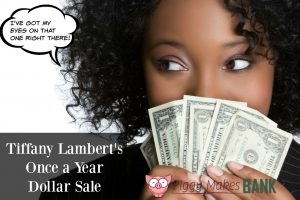 since Tiffany (like we here at Piggy Makes Bank) writes everything herself, you know the content is well researched and well written.
Here's how it works.
You grab one (or several) of the options depending on how many PLR bundles you want to buy. Tiffany also kindly links a document with a list of all PLR bundles that are covered by this sale. Start there and make a list of what bundles you want to get. Add them all up and then buy "credits" accordingly.
You can buy the credits in the following increments: 
$5 Voucher for the 2016 $1 PLR Sale
$10 Voucher for the 2016 $1 PLR Sale
$20 Voucher for the 2016 $1 PLR Sale
$30 Voucher for the 2016 $1 PLR Sale
$40 Voucher for the 2016 $1 PLR Sale
$50 Voucher for the 2016 $1 PLR Sale
$100 Voucher for the 2016 $1 PLR Sale
If you want five bundles, get the $5 voucher. If you want 15 bundles, get the $10 voucher, then come back and get the $5 voucher. After you place your order you get instructions from Tiffany on how to claim the PLR bundles of your choice.
We bought her total membership for all current and future products a while back (at full price instead of the deal in this sale) and were able to make our money back in a matter of days.
The easiest way to recoup your investment is to pick one of the PLR bundles that you can turn into a paid product (an ebook in our example), and go ahead and put that up for sale. Promote it to your list, have your affiliates promote it, and it shouldn't take you long to recoup your investment, no matter how much you spend in vouchers.
Our Bonus: 
To sweeten the deal we decided to add a little bonus. How does $27 worth of PLR from PiggyMakesBank.com sound?
After you make your purchase from Tiffany via our affiliate link here, you'll get a special coupon code that saves you $27 of your purchase here at PiggyMakesBank.com. That means you can get one of our large PLR packs as bonus.
Ready to get started? Click here to get to Tiffany's $1 PLR Bundle Sale and start shopping. Our bonus will be waiting for you after you check out.