Templates, Worksheets & Coaching PLR – Meet Nicole From Coach Glue
We're continuing our series of PLR provider interviews today with Nicole Dean from CoachGlue.com. She runs this niche PLR site together with her business partner Melissa Ingold. We've known Nicole for a very long time. In fact, she was the one that first introduced us to the idea of PLR.
You may or may not know that we both used PLR long before we started writing and selling it here at PMB. Back to Nicole though. She's a good friend and we've gotta tell you. We've recently had a chance to peek behind the scenes at what she and Melissa are doing with Coach Glue and we're impressed.
If you're considering doing any type of coaching (group coaching or one-on-one) – and you should- you owe it to yourself to check this out.
Coach Glue makes getting your coaching program up and running as easy as pie and as the name implies, they help you keep your clients and students. We'll talk more about the idea of coaching as a way to build out your funnel and help your customers over the coming days and weeks. for now, take a moment to read through this interview with Nicole. There's a lot of great information in there that you can apply to your own business today!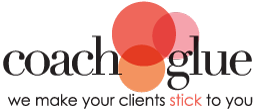 How did you get into PLR?
Great question! Back in 2005, my good friend Kelly McCausey and I were very very frustrated with the quality of PLR sites that were online. At that time, and thank God this has changed a bit over the years, all PLR was pretty much terrible. It was written by overseas writers, not edited, the content was very weak in value and it was about quantity over quality. It was basically a terrible industry with a few exceptions.
We knew there was a great need for PLR so we decided that it would be very easy to stand out from the crowd by opening a PLR site if we stood by our rules: Integrity and Quality. It worked. That first business Easy PLR  grew very rapidly and I still own it today. Kelly moved on to create a site called White Label Perks  so she is still in the PLR business even though we are no longer partners on the original Easy PLR site.
In 2010, my friend Melissa Ingold and I launched Coach Glue because we saw a need for business consultants, coaches, and other experts to have done-for-you training they can use to grow their businesses.
Do you use PLR yourself and what's your favorite way to use it?
I have used it but I really don't as much any more. Because I sell it, I don't want to compete with my clients, so I rarely use it in my own training. Plus, if I write a report that I want to sell as training, I don't want my people to think "did I already buy this?" That's why most of my training is behind-the-scenes stuff where I actually show what I am personally doing in my business. IF I use PLR it is to support that. For instance, I might include a bonus checklist or report with my training.
An example would be when I created a course about how to grow your email lists, I included a report that we sold with PLR rights at CoachGlue awhile back about "How to Get Started with Aweber" as a bonus.
There are a lot of PLR sellers out there, what makes Coach Glue stand out? (what is it/ who is it for)
Where to begin? 🙂 At CoachGlue we help coaches spend less time on on their businesses with our done-for-you coaching forms, workshops, planners, and other types of content.
What makes it unique is that our clients can count on us to create their content month after month after month.
For instance, many of our customers have finally created monthly group coaching since we launched our Teach Your Tribe program where we provide them with a monthly script that they can use to teach their own group coaching calls or webinars. Easy peasy.
If they want their choice of what to teach each month, we have an annual option or they can sign up for our All Access VIP Annual program where they'll get a bunch of workshops and training that they can pick and choose from as they need it.
Are there particular niches you cater to?
Yes. We specialize in helping business owners who teach others about business topics and personal development to grow businesses.
Our typical clients include business and personal development coaches, of course. But we also have many Virtual Assistants, Authors, Speakers, and even some offline consultants, too.
Basically we help people who want to be experts and make an impact by helping others to grow their businesses.
What's your best tip for using your PLR and implementing it?
USE IT. 🙂 It can't make you money collecting dust. So just pick one thing and use it.
Tell us a little more about coaching. Is it something a blogger or info marketer could and should get into?
Absolutely. All you need to start coaching is your brain and a buy button. Coaching is a simple, and effective way to add a higher end product to your business. You can literally have your first client the same day.
Just decide what you want your coaching program to look like:
1. 1-on-1 coaching.
You can do this via email, Skype, or phone calls or a combination.
2. Group coaching.
This is best done via calls or webinars. You can use our Teach your Tribe content to teach a topic and then discuss with members.
Then put together a blog page describing your new program and add a buy button. (You can even do that via paypal. Easy.)
Start promoting it and you're in business.
We recently launched a 30 Day Blogging Challenge PLR Bundle. Any thoughts on how our readers could use something like that to dip their toes into the coaching arena?
Great idea! Yes. Challenges are a wonderful way to build your list and grow your community. I run a challenge twice a year for my Awesomization Nation and it's so amazingly awesome.
If you were to take the 30 Day Blogging Challenge material and use it to start a challenge, then you're already coaching. You can add as little or as much to it as you'd like. Add some calls or videos so people get to know, like and trust you more.
I would say to either add a coaching upsell to the members for the month so they can pay $197-997 to actually ask you questions or have you do a blog critique or offer an option at the end for a one month of followup with you directly.
How can Coach Glue help our readers run their own coaching programs?
Here's a quick explanation if you were to get everything in our VIP program and you could use it all.
Here are 5 ways to earn $997 which is the cost (currently) of the annual VIP program.
1. Start a Group Coaching Program.
Take the Teach your Tribe package for the month, record a teleseminar or webinar each month and provide the accompanying workbook and calendar for your members to work through. Add a Facebook group for members only and you're ready to open it up.
You would only have to sell ONE spot at $97/month for a year to pay for your All Access VIP program AND be making a profit.
$97 x 1 member x 12 month = $1164 (VIP Paid for plus $167 profit)
2. Start a Membership Site.
If you don't want to record training, you can take our reports and customize them with your own logo. Then turn them into pdf documents and create your own Academy with valuable training.
You would only have to sell FOUR spots at $27/month for a year to pay for your All Access VIP program and start making a profit, too.
$27 x 4 members x 12 month = $1296 (VIP Paid for plus $299 profit)
3. Create your own Special Planners.
Want something that's a one-time set it and forget it passive income? Take one of our done-for-you planners that you'll receive and customize it with your information. Record a quick training video about how to use it and turn it into a pdf.
You would only have to sell 37 digital planners at $27 each (3 or 4 a month) to pay for your membership.
$27 x 37 customers = $999 (VIP Paid for plus $2 profit)
4. Hold your First (or Next) Digital Workshop.
Take one of our huge 4-module workshops and create a digital ecourse or bootcamp. You can use the training and powerpoint slides from each module to record a webinar/teleseminar/video, or you can have your clients join you for live online events. You can use the worksheets, exercises, and checklists as handouts so your clients apply what they learn from you. Add a Facebook group or private coaching upsell, and you're ready to go!
Plus, after you're done creating it, you can keep selling your workshop over and over again as an online self-study course.
You would need to sell one at $997 or 2 at $497 to break even and begin to profit.
5. Host a VIP Day.
VIP days are a great way for you to coach in-person locally or somewhere exotic (get paid to vacation). You can use any Coach Glue content to create a marketing binder for your clients. Edit the documents with your business info and brand, have the documents printed, and package them into a beautiful binder for your clients.
Then during your VIP day, you can work through the binder to plan and help your clients grow their business.
You would need to sell one at $1997 or $3997 to break even and profit.