Set It And Forget It Content For Your Food Blog
Since we've fallen down the rabbit hole of becoming PLR content creators (which has been a blast),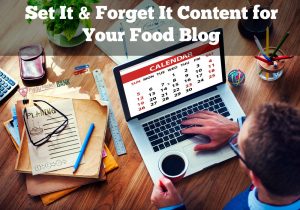 both our food blogs have been neglected a bit. It's time to revive them and do a better job serving our audience in 2017. We also know that we're going to be very busy implementing the plans we already have for new PLR content for you. So we needed something quick and easy to keep our food blogs running while we focus on other stuff.
Then our friend Alice came out with a huge Food PLR Content Bundle. We took one look at it, snagged it up and came up with a plan on how we're going to use it all in the food niche. We thought you'd like a little peek over our shoulder ad see how we're going to use this PLR bundle to create some set it and forget it content funnels for our food blogs. Not only will this material keep our current blog readers happy, we're also going to grow our audiences, and create several new streams of income along the way.
The PLR bundle includes 10 short reports, 215 meal ideas, and 365 cooking tips.
Let's start with the short reports. We're going to take one of these a month and go through it, editing to make sure it serves our audience and including affiliate links to monetize along the way. We'll also sprinkle a few links in there to send readers back to our existing content. The plan is to share one of these per month (taking two months off or using something different) with our current subscribers. We'll also create a simple little optin page for each report and use it to reach new audiences and grow our main list. At the end of the year we'll have 10 more optin funnels in place.
Next, we'll use the meal ideas to come up with quick blog post ideas. We'll spend a day between now and New Years setting up 215 blog post drafts with the meal ideas in them. Whenever we need a quick blog post throughout the year, we can start with one of the drafts, share a recipe for one of the dishes in the meal idea, add pretty stock photo and publish. We'll also keep an eye out for opportunities to link to any of our new optin pages in those posts.
Last but not least let's talk about the cooking tips. Those will be used as social media content. We'll set them up to go out on Facebook and Twitter three or four per day and link back to our main blog, individual blog posts, and the optin pages. You can use services like Edgar, Hootsuite, or PostPlanner to set this up ahead of time and have the posts go out automatically. Since not all readers will see every single post, you can recycle them and use them over and over again throughout the year.
Between the social media content and the fresh blog posts, we should see our reach and traffic grow over the coming years. All the quality content in the reports we'll be sharing will create a lot of goodwill with our readers. This will help when the time comes to send solo emails and ask them to buy a particular product.
One last thought… the short reports on hot food topic are also a great starting point for creating new products. Provided we can find the time, we might take the topic as a starting off point and create one or two kindle books inspired by the content in the short reports. In the books we'll mention our blogs and include a link to the opt in page for each report. Selling the Kindle books on Amazon will create another revenue stream for us and grow our reach even further.
We hope this was helpful and has given you some ideas on how you can use this and other big PLR content bundles on your own sites. We can't wait to see what you do with it.