Get Your Free Copy of Online Business Ideas- Building a Work at Home Business One Step at a Time
Now that you've decided you want to start exploring the world of making money online you're probably wondering where you should begin. I want you to know that I've been where you are and I understand where you're coming from. Not too long ago, I started the same journey you're thinking about taking.
I want to tell you right up front that while making money online is SIMPLE to do, it is also HARD WORK but it's SO worth the effort.
What I want to do is help YOU avoid some of the pitfalls that I faced while searching the internet for legitimate ways to make money online.
It can be very hard to figure out where you can find the information you need from the sources & resources that will provide you what you need, when you need it and at a price you can afford.
So won't you please add your name & email below so I can send you a copy of the Online Business Ideas ebook?
Then email me at piggymakesbank@gmail.com with any questions you have.
Wanna know what's inside?  Ideas & information about: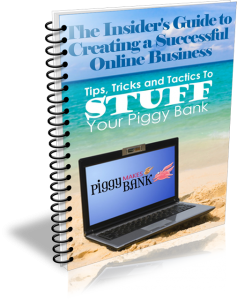 Service Based Business Options
Virtual Assistant Business
Bookkeeper
Web Designer
Transcriptionist
The Writing World
Digital Product Options
Start A Blog
Create Information Products
Start A Podcast  
Start A Membership Program
Affiliate Marketing
My favorite way to make money online
My 2nd favorite way to make money online