Note: This is a personal use training document – NOT PLR
Get Unstuck With The M.A.D Planner & Guidebook
We are passionate about helping you grow your reach, your traffic, your subscribers, and your income. It's one of the reasons we got into the PLR business. But high-quality pre-written content is only part of the puzzle…
Any content, regardless of it being pre-written like PLR or something you write from scratch – has to be USED and used WELL.
If you're feeling stuck on what to do next, or how to take your business to the next level, we'd like to help you get unstuck. It's why we created the M.A.D guide and planning workbook.
M.A.D = Motivation, Accountability, Direction 
This 10-part, downloadable guide will help you determine your S.M.A.R.T. Goals for the coming weeks and months. You'll find plenty of tips, ideas, and strategies to help you determine what part of content marketing you should focus on next. The companion workbook will help you plan your Monthly Milestones, Weekly Targets & Daily Tasks to reach your goals.
The M.A.D guide & workbook help you: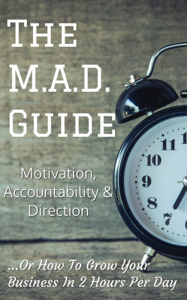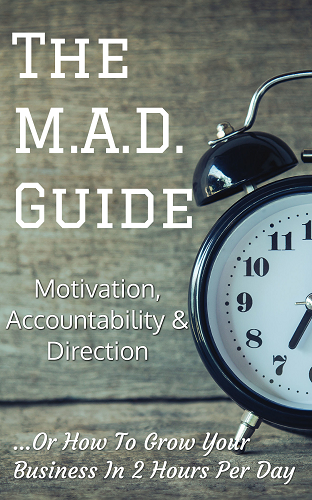 pinpoint what part of your online business you should work on next.
discover how the different pieces that get you traffic, subscribers, and customers work together.
how to overcome obstacles and stumbling blocks you will encounter along the way.
when to ask for help and how to find it.
how to increase your productivity and make some serious progress working just two hours per day.
When you take focused action, even the smallest steps work to create big impacts on your business….more traffic to your site, more engagement from your community, more people on your email list & more sales of your products.
This Guide & Workbook Can Help You Take Your Business To The Next Level

We've created this goal setting planner to help guide you stay motivated, help you stay accountable and find the right direction:
Motivation – You have to know why you do what you do to sit down and get your work done in record time.
Accountability –  There's nothing like knowing you'll be reporting on your progress to motivate you into taking consistent action.
Direction – Last but not least, you need focus to make this happen. the best way we know to get hyper-focused is to have a clear plan and SMART goals to point you in the right direction.
We like to work two hours a day Monday through Friday, because it works with our schedule. We get the work done before everyone else wakes up and then go play. There are also plenty of times when we take days and weeks off and that's when we prepare for it by working a little longer in the days leading up to a trip.
You can easily do the same. Got a vacation planned? Great – we'll help you figure out how to grow your business while you're away.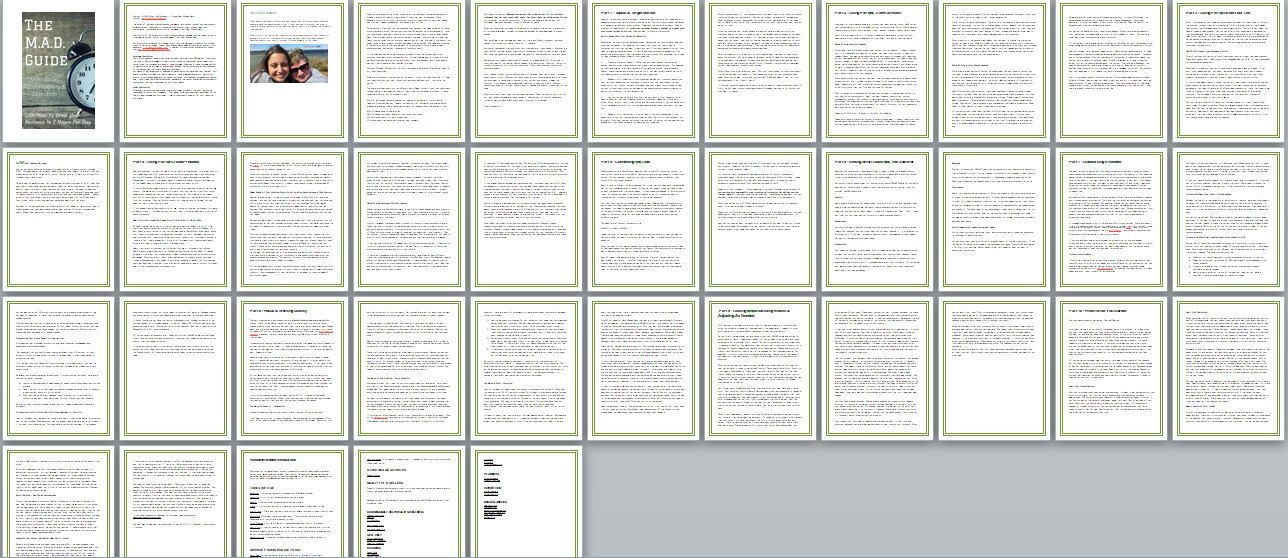 Inside you'll learn about:
Part 1 – Topics & Target Market
Part 2 – Using PLR For Traffic & Reach
Part 3 – Using PLR To Grow Your List
Part 4 – Using PLR To Create Products
Part 5 – Connecting The Dots
Part 6 – Setting Smart Goals For This Summer
Part 7 – Outsourcing If Needed
Part 8 – Focus & Working Quickly
Part 9 – Dealing With Stumbling Blocks & Adjusting As Needed
Part 10 – Finish What You Started
And there's a Companion Workbook, too.

Creating Products And Making Offers Isn't Enough…You Need A Plan & We're Here To Help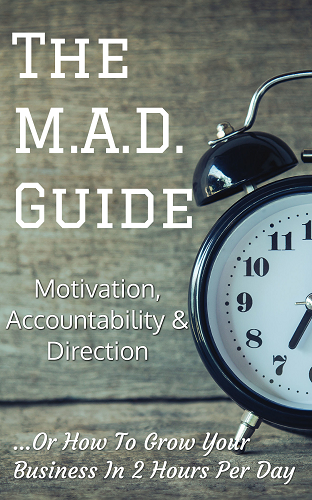 Still aren't sure?  Go ahead and get it…if you aren't happy we'll buy it back from you.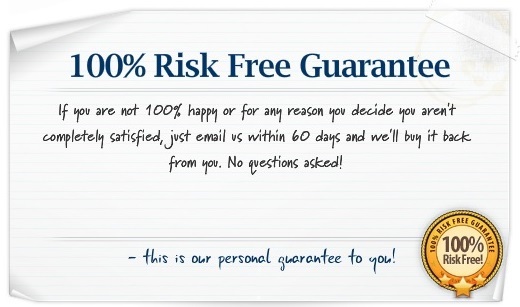 If you're ready to grow your business then grab this M.A.D. Guide & Workbook and get started today.

Note: This is a personal use training document – NOT PLR