Cut Your Content Creation Time By Up To 80% 
How Much Time Could You Save If You Had Access to "Done For You" Content EVERY MONTH?
Imagine how quickly you could grow engagement and increase your reach if you were able to share targeted content on a particular business and marketing topic for 30 days each month…
Even better, what if it was easy to follow up with your audience via email to make sure they don't miss a thing PLUS have a product to give away or sell?
That's exactly what our Business Content Plan can do for you.
Build Your List, Grow Your Reach, And Stop Worrying About Constant Content Creation!
(Delight your website visitors so they can't wait to come back for more.)
You know you need to share a lot of good content out there in the form of blog posts, emails, social media posts, lead magnets, coaching content and the like. Let us help you with all the writing you need to do each month for your content publishing.
Get A Big Head Start On Content Creation Each Month
The posts or articles are a good mix of tips and ideas that will inspire your readers to work on improving their business and growing their reach. There are educational & big thinking posts and those with strategies that your reader can take action on right away.
Each month we provide you with a good mix of content that your audience will LOVE.
Post each article on your blog to drive traffic there, or if you prefer, share the tips (or excerpts) on your Facebook page to drive up engagement there.
Along the way, you can monetize your emails with suggestions for different products, services, books, courses, and tools.
If you know how to copy and paste, you can set up this 30-day content funnel. Keep it free or make it a paid product. We give you detailed instructions on how to use this content to grow your business and your reach.
When you outsource your content creation to us you'll get private label rights to:
30 Articles – each 400+ word article will be a mix of tips, ideas, big thinking posts & strategies your readers can take immediate action on.
30 Auto-Responder eMails – each email is written to directly correspond with one of the articles making it easier for you to use this in multiple ways.
30 Social Media Posts – Custom written social media posts that go hand-in-hand with each of the articles. Use them to whip up quick Facebook posts, schedule tweets for your posts, or consider combining these little text blurbs with images for your posts and use them on Pinterest or Instagram. No matter how you use them, these social media posts make promoting your content as easy as pie
Compiled Report with the 30 articles for your convenience – If blogging isn't your thing Not a problem! We've compiled the content into a meaty 30 chapter eBook that you can share with your target audience. Use it as an up-sell or bonus for signing up to your list or coaching program. Turn it into a new paid product each month to build out your funnel, or post the articles on your site with a call to action at the end to sign up to receive the full content package. You get a lot of top-notch business and marketing content that you can quickly customize for your specific target audience and share with them in a variety of different ways. We even include a guide with plenty of ideas to get you started. The only way you won't benefit and profit from this content is if you let it collect virtual dust on your hard drive.
6, 000+ word eBook – This would make a great info product that you can promote to your audience. It would be a perfect addition to 30 articles, but works just as well as a standalone product. Edit it slightly as needed to fit your audience and your style, and you can have a brand new eBook up and ready for sale over the course of a day or two. Or take the content and use it to create a class or coaching program on the topic. Of course, you can also break the content apart and use it as you see fit. Break it down into three shorter reports to use as lead magnets, or create a long series of blog posts.
Workbook that corresponds with the ebook topic – This workbook is a quick reminder of the information contained in the ebook and helps them walk through the tips & strategies for their own business.
Guide on How to Quickly and Effortlessly Grow your Lists with Email Challenges – Learn how to be the undeniable leader of your community and get massive visibility by implementing this material. We'll show you how. Use it for this particular content bundle, or for any other 15 or 30-day email challenges you may want to run down the road. We've even included a section on how to write the content for your challenge yourself. We share everything we do to run and promote these 30-day challenges and grow our lists fast.   
each and every month you remain a member.
This Month's Topic Is:
Turn Your Expertise into a Profitable Business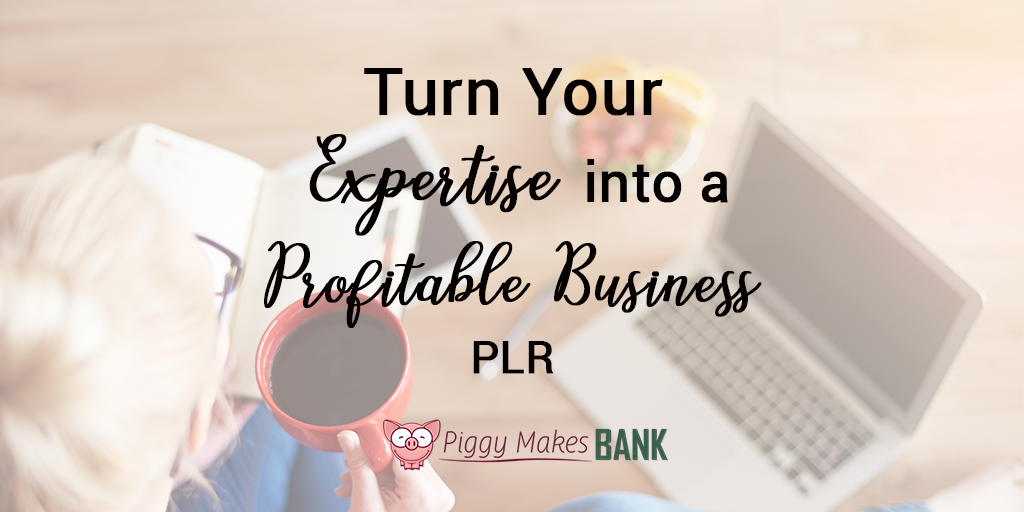 Here's a quick glance at the 30 titles we have for you inside:
Welcome and Do You Know What Your Areas of Expertise Are
Being an Expert is a Relative Term
Which of Your Areas of Expertise Are Most Marketable?
Start Sharing What You Know on a Blog
What Problem Can You Help Someone Solve? Make a List
Create a List of Quick Tips & Resources to Build a List
Identify Your Ideal Target Audience
Figure Out Where Your Audience Hangs Out Online
Engage with Your Target Audience and Learn More About How You Can Help
Create That First Paid Product Quickly to Test the Waters
Think About How You Want to Spend Your Working Time
3 Different Business Models That Turn Your Expertise into Income
Let's Talk Leverage – How to Share Your Expertise in a Way That Scales
How Information Products Help You Package Your Knowledge
The First Product is Just the Beginning – Building Out Your Funnel
Work Directly with Your Target Audience Through Coaching Programs
Group Coaching Vs. One-On-One Coaching – Let's Talk Pros & Cons
Consider Writing and Publishing a Book
How to Market Yourself as an Expert in Your Field
The Benefits & Challenges of Setting Up a Membership Site
Leverage Your Expertise Through Interviews and Articles
Expand Your Reach Through Podcast Appearances & Guest Contributions
Grow Your Expertise as Your Customers & Clients Grow
Leverage Your Customers Through Testimonials and Social Proof
Is It Time to Start Speaking?
How to Use Video to Connect with Potential Customers & Clients
Time to Fine Tune Your Systems and Spend Less Time Building Your Brand
Joint Venture Projects Help You Tap into Other Expert's Audiences
What Are Your Long-Term Goals for Your Business?
Let's Recap and Review a Month's Worth of Posts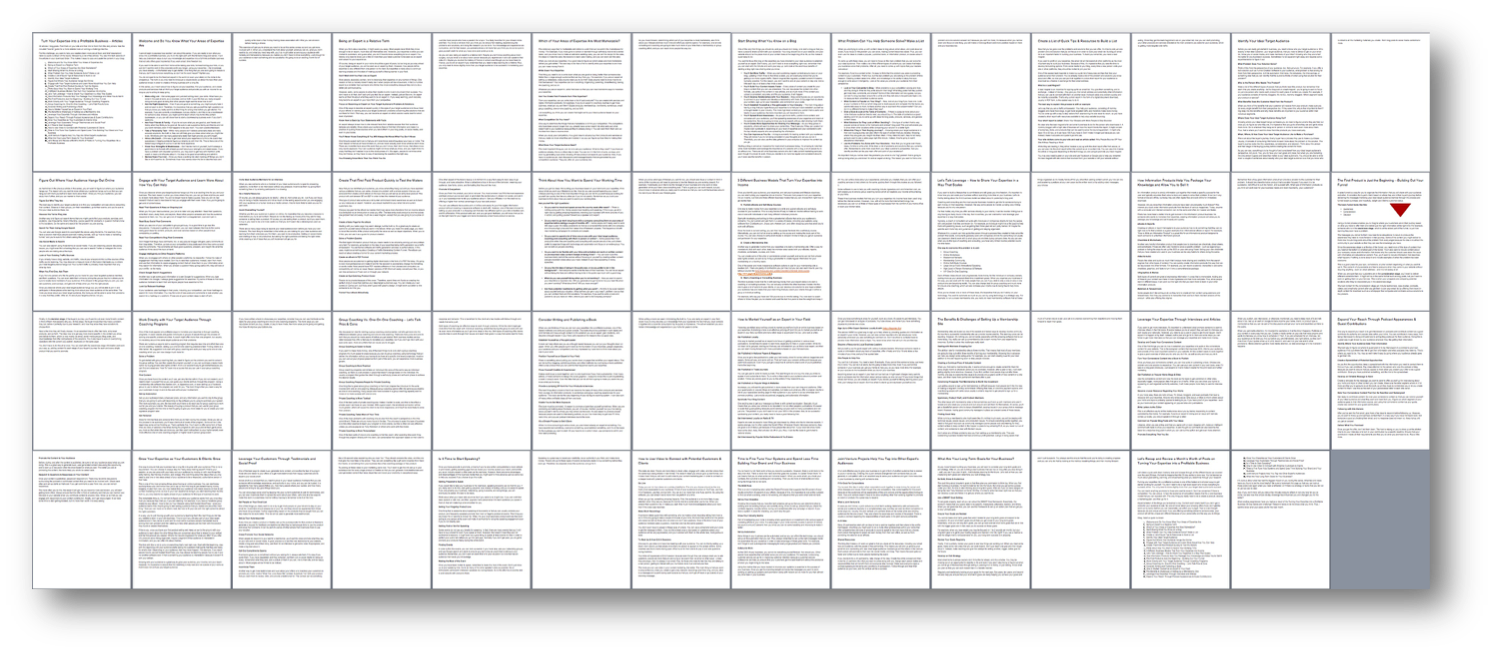 Ebook: Write a Book to Establish Yourself as an Expert (7,236 words)
will teach your readers about:
Why You Should Write a Book
The Benefits of Self-Publishing Your Book
How to Write a Book
Writing Your Book
Getting Ready for Publication
Promoting Your Book
& More…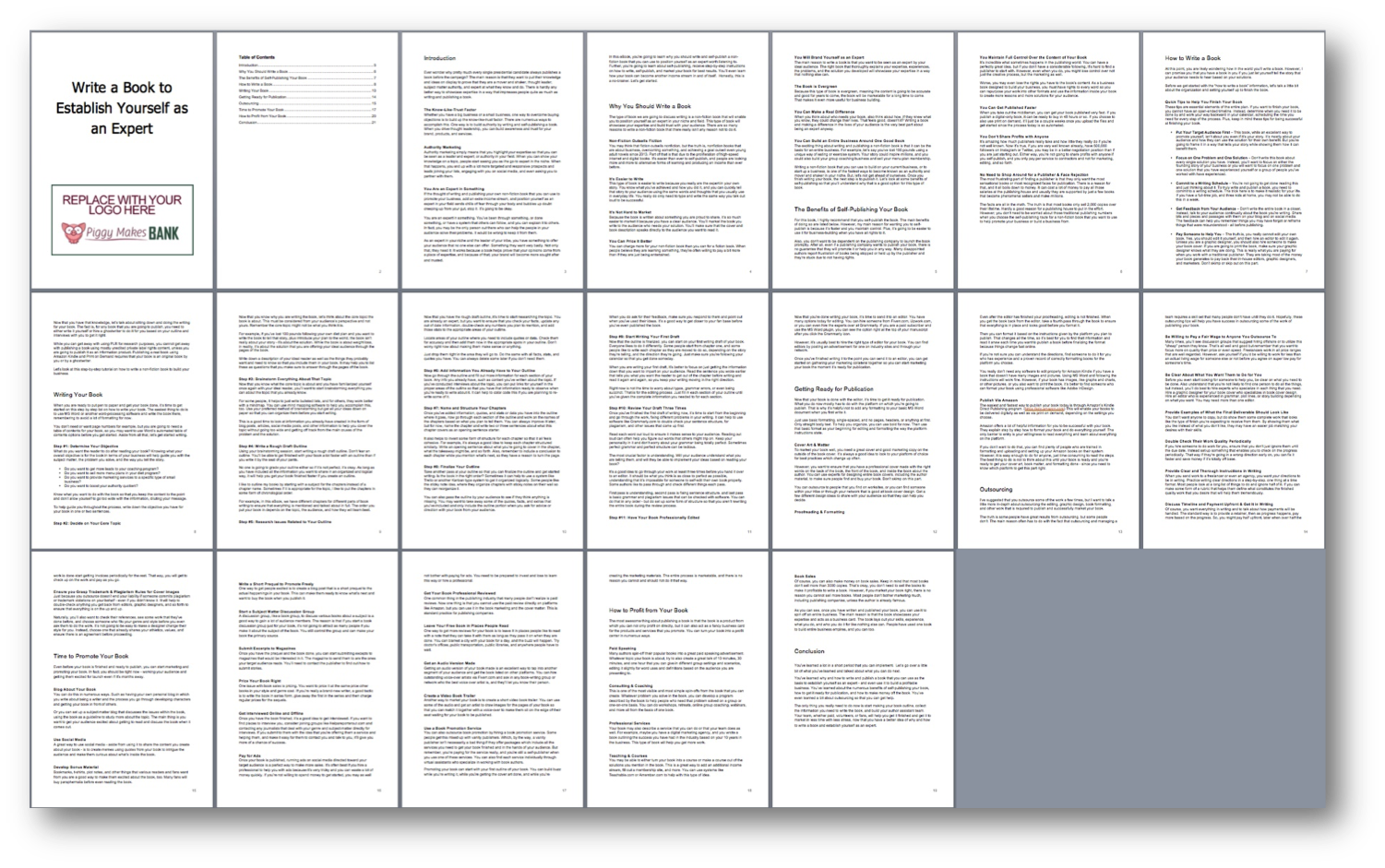 Workbook
A workbook to help your readers establish themselves as an expert. Here's a sneak peek: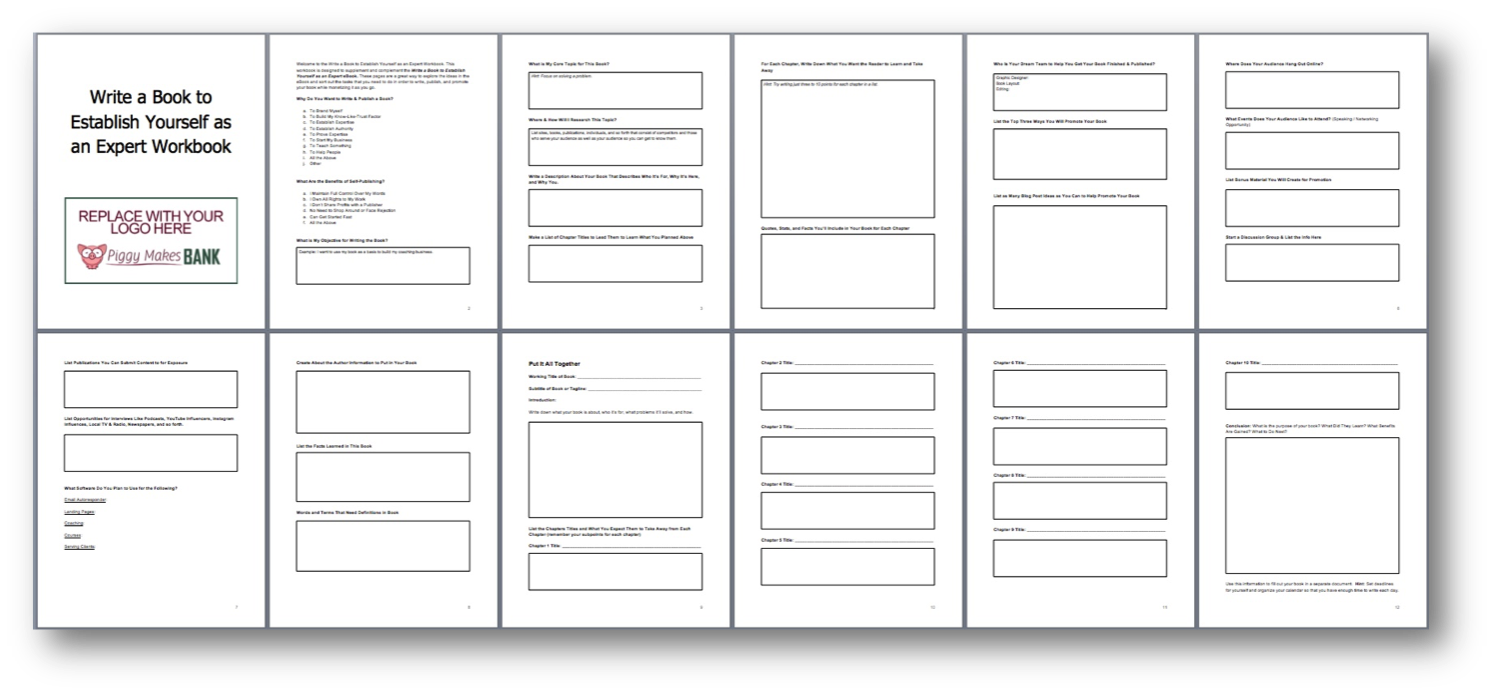 When you join us you'll immediately get a month's worth of content that you can edit & batch in less than an hour or turn it over to your VA and rest easy knowing that you now have time to actually market your business and the products you're selling.
Not only that, you'll virtually never run out of things to write about because we do all the heavy lifting for you. We research, outline, write and deliver your content to you on the first of each month.
How much could you make if you had a consistently growing, engaged list of fresh subscribers who love what you have to share? 
You KNOW Content is important.
When you share good content each and every month, you're growing your reach and you're attracting more people to your website and your list.
In other words, content and traffic are important, but they are only one part of the equation. To profit from your online business, you have to make offers.
You have to have something to sell and some of the easiest and most profitable products you can put together – particularly in the Business Niche – is information products. The good news is that we have you covered!
Get this Monthly Membership for just $47 per month

If you have an active membership, this pack is already in your member area.
 You Can Seriously Save Big With This Deal But It'll Only Be This Price for a Short Time
If for any reason you wish, you can cancel at any time from inside your own PayPal account (easy peasy), but we doubt you will even consider it once you start to put these content systems to work each month.
10 Ways To Instantly Use This Package
Not sure where to start? Here are ten quick ideas to put this business content to good use right away to grow YOUR business.
Turn the articles into a 30 Day Blog Post Series and the emails to email your list about them.
Share the body of the email text as social media posts with links to the blog posts.
Take the document that includes all articles, add a title page, about the author, and recommended resources and you'll have an eBook that you can give away at the bottom of each blog post. Write a quick Call to Action to build your subscriber list.
Do the same as above, but sell the eBook to build a customer list. This could be your entry level product that not only builds this paying customer list but also feeds into the rest of your product funnel.
Create a 30-day group coaching program or interactive challenge based on the content of this package. Hand the eBook to your clients to follow along and have something to take away with them after the program runs its course.
Create a personal coaching program based on the same info with more personalized suggestions for each client.
Use the content in each article to create a quick audio or video product. If you have a podcast here's the content for your next 30 episodes.
Use the 30 topics to record 30 Facebook Live videos for your audience.
Hold a series of self-help webinars based on the article content.
Mix and match all of the above. Remember, this is your content. You can re-purpose it as many different times and in as many different formats as you see fit.
Got Questions? We Have Answers (FAQ)
What Can I Do With This PLR Content?
See the terms of use below, but basically, you can edit, rewrite, re-purpose, tweak, and change this content as you see fit. Use it on your website or blog, as part of your membership. Create a paid product or a lead magnet. Use it to run a coaching program or create a webinar. Use it to grow your reach and build engagement with your community.
Is This Membership Right For Me?
If you have bought and used one of our other 30 Day "challenge" packs, this membership is definitely for you. If you run a business or marketing site, are growing a community in the field, or you're a biz coach, mentor, or someone who helps people grow their own online businesses, this content is for you.
The hardest part of building a thriving online business in the business and marketing niche is that you have to share a lot of great content on a regular basis to attract people. There's nothing worse than sitting in front of a blank page. Let us help you get more awesome content created to share with your tribe. Use what we've written for you and tweak it as you see fit. Make it fit YOUR Market, Your Audience, and Your Needs.
When Do I Receive The Content?
You will receive the first PLR pack as soon as you sign up. Going forward, a new pack with the new monthly topic will be added on or around the 1st of each month.
How Do I Access My Subscription? To access your Piggy Makes Bank Products please log in at http://www.piggymakesbank.com/amember/login with the username and password you chose when you made your purchase.
Once there you simply scroll down to Active Resources, Click on the link to the product you'd like to access and you'll be taken to the download page.
When Am I Billed?
If you chose the monthly option, you will be billed every 30 days going forward. If you chose the annual option, you'll be re-billed 365 days from the time you signed up. We will send a couple of email reminders to let you know it's coming before the yearly renewal date.
What If I Want To Cancel?
You can cancel your subscription at any time. Cancel it in your PayPal account or shoot us an email and we'll be happy to handle it. You'll continue to have access to the content bundles that were part of your active membership. You simply won't receive any new content that's released after your cancellation.
What Are The Terms Of Use?
Rights Granted: What you CAN DO with it:
Can be edited completely and your name put on it.
Can be used as web content.
Can be broken down into smaller articles.
Can be added to an eCourse or autoresponder as content.
Can be added to an eBook/PDF as content.
Can be given away.
Can be packaged.
Can be offered as a bonus.
Can be added to free membership sites.
Can be added to paid membership sites
Claim full authorship.
Added to paid membership sites.
Added to free membership sites.
Can be broken down into articles.
Can be packaged with other products.
Offered as a free bonus.
Given away for free.
What you CAN'T DO with it
Can't be submitted to article directories.
Can't be used in Kindle books
Can't sell with PLR Rights
Can't offer Master Resell Rights
Can't be offered through auction sites
What Are The Upcoming Topics?
Please keep in mind that we reserve the right to change the topics and/or order in which they're presented OR to use something else completely.
November – Monetize Your Blog Posts
December – Going Legit In Your Business
January – Innovative Ways To Create Paid Products Quickly
Any other questions? Email us here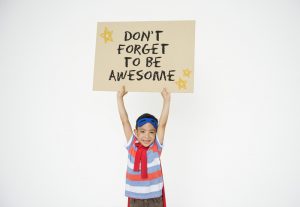 Love this? Help us spread the word!