Build Your Email List with PLR
Fact:  You need to build an email list.
Fact: Offering something to people helps them make the decision to sign up for your mailing list.
One of our favorite uses for PLR is to help us build our lists. Here's how we do it.
Step One:
Grab a PLR article pack from Content Drafts or here at Piggy Makes Bank 😀
Step Two:
Turn them into a short report that's branded with your name, your url and contains some links to affiliate products, related blog posts you've written etc.
Here's a quick video from Nicole Dean that shows you just how easy it is to turn one of the article packs into a pdf report that you can then use to entice your visitors to join your list.
Step Three
Upload the PDF to your site and create an opt-in box via aweber , ConvertKit, MailChimp or whatever your email manager of choice might be – that invites readers to join your list and promises them the short report you've created in step two as a thank you just for signing up.
Step Four
Read through the PLR articles you used to create the report to get ideas for blog posts, guest posts and articles you can write. Write them and publish them, driving traffic back to your site and inviting readers to join your list and get the free report when they get there.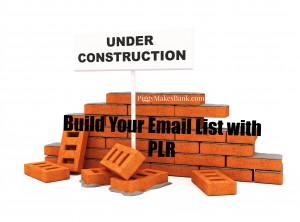 That's it. Give it a try 🙂 Then come back and let us know how big your list is growing.