How Can I Get More Traffic To My Blog?
We always welcome your questions about blogging, making money online and making this whole internet thing work.  A few days ago we got the following question via email. We thought our reply might help you out as well.
I would like to know how to drive traffic to my blog. I do use PLR. I am putting my first free report on it this week.

Thanks for your help.
It's a great question and getting traffic to our blogs is something we are all work on regularly. Things change over time, but many of the basic principles still hold true. We cover quite a bit of traffic both here and in our monthly Profitable Project reports.
For the purpose of this blog post, let's quickly talk about a few different things we can do to get quick traffic – particularly for a new blog (even though these same strategies work for an established blog as well… you just don't need to work as hard on the getting indexed section).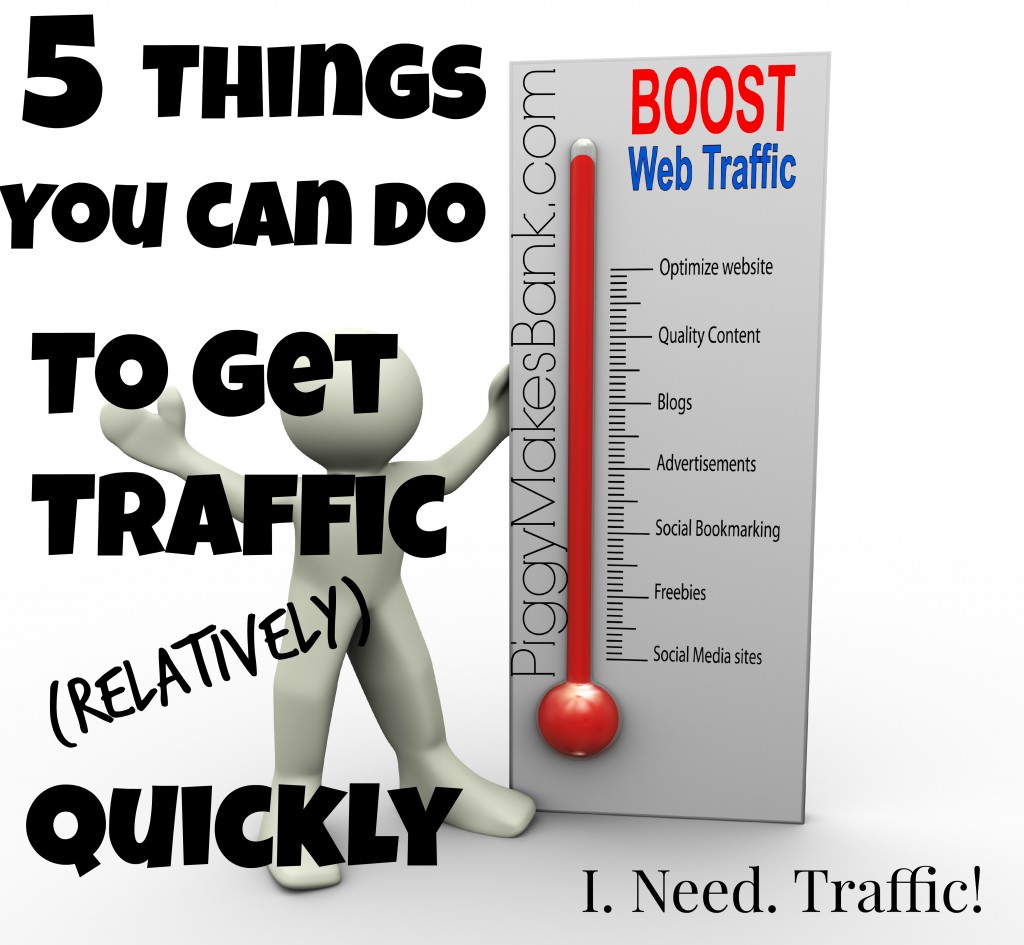 Getting Indexed
Our first goal when we set up a new blog is to get it indexed quickly. Once your blog is indexed regularly you can start to rank for long tail keywords in the search engines. Here's what we do to make sure we get indexed as quickly as possible.
1) Set Up Permalinks – You want your permalinks to include the title of your post. Take a look at this blog post for example. Do you see how "how-can-I-get-traffic-to-my-blog" is part of the url of this page? You can set your permalinks in the settings of your blog. The token you want to use is %postname%
3) Blog Regularly – For the first few weeks it is very important that you add new content on a regular basis. A daily post is ideal, but even 3 new blog posts per week will work. You can use the wordpress scheduling feature to write everything on your own schedule and then have the posts go live in regular intervals (i.e. once per day or every other day).
4) Get A Few Links – Last but not least you want to point at least a few links to your new site to make sure the search engine spiders can find you. You can write an article or blog post, or just share your blog url on a few big social media sites to get the ball rolling.
Social Media For Fast Traffic
Social media is excellent for quickly driving traffic to a new site. Use your existing twitter, facebook, pinterest, instagram and stumbleupon accounts, or create a new one if your blog is in a completely unrelated niche. Make as many friends as possible, join some groups and participate regularly. It doesn't take very long to build a nice little following on the big social media sites.
After you have a few friends and followers, start to occasionally link back to your blog, ideally to good content. Don't try to sell them anything, just share information and on your blog invite them to join your list, comment etc.
You should see a nice little stream of traffic from this right away.
Guest Blogging For Fast Traffic And Powerful Links
Next, find a few good blogs in your niche. Start participating on the blogs by leaving well-thought out comments. Once the blog owner had a chance to get to know you a bit via these comments, email him or her about the possibility of writing a guest blog post for the site. Include one or two links toward the end of the blog post inviting readers to check out your own site.
Not only are you building strong incoming links with this technique, you're also getting quite a bit of traffic once the blog post is published, especially if the blog your guest posting on is popular.
Aim to write and submit several guest posts per month for a nice steady stream of traffic.
Record some Videos
Is there something you can share or talk about via video? Record a few short "how-to" videos and upload them to Youtube. Make sure you use good keywords in your video title and description to make it easy for others to find them.
In the description of your video link back to a blog post related to what you're talking about. In the video itself mention the blog post and ask your viewers to click the link to your blog in the description.
Go Where Your Audience Hangs Out 
Find out where your target audience is hanging out online right now. This could be Facebook pages or groups, or it could be a popular forum. Hang out and start to connect with people. On occasion, post a link back to your blog or add it to your forum signature line. If there's a blog post you wrote that applies to a particular discussion or topic, link to it. Focus on being helpful instead of spammy and you should be able to get quite a bit of traffic to your own site.