FREE On-Line PDF Converter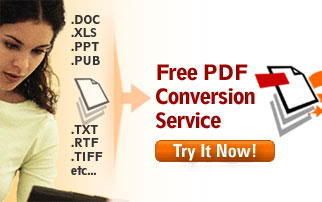 As an eBook and article writer, I often need to convert my documents to a PDF. I do this for several reasons:
1) It is more difficult for someone to copy my work. If they are going to copy my work, they will have to re-type the entire document.
2) PDF docments transmit via email without any corrputions. When the recipient opens the PDF document, nothing moves or changes based on settings on the recipient's computer.
3) PDF documents just look cleaner and more professional.
You might consider converting your business documents such as forms, flyers, or other promotional materials to PDF. I found a great site where you can convert documents to PDF for free. It is fast, user friendly, and as I mentioned, free. You just upload the document to the site, enter your email address, and within minutes you receive the converted document as an email attachment. I was amazed at how fast and easy this process was.
The only downside is that html links are not preserved when using the free service. You can install the PDF driver for only $14.95 if you want to create documents with the links preserved (clickable).
Visit PDF On-line and try the free service. You'll start thinking of all kinds of uses for PDF documents after you see how easy this is!
While you're here, stop by the Birthday Parties section and enter the contest to win over $150 in prizes!
Suzanne Wells is an eBay Power Seller, consultant, freelance writer, and WAHM of 2 in Atlanta, GA.